Meet Recombee at IBC 2023
Amsterdam · 15–18 September 2023 ·
Read More
Travel Personalization for Enhanced Experiences
Recombee's cutting edge personalized trip recommendations keep your customers engaged and make their experiences unforgettable.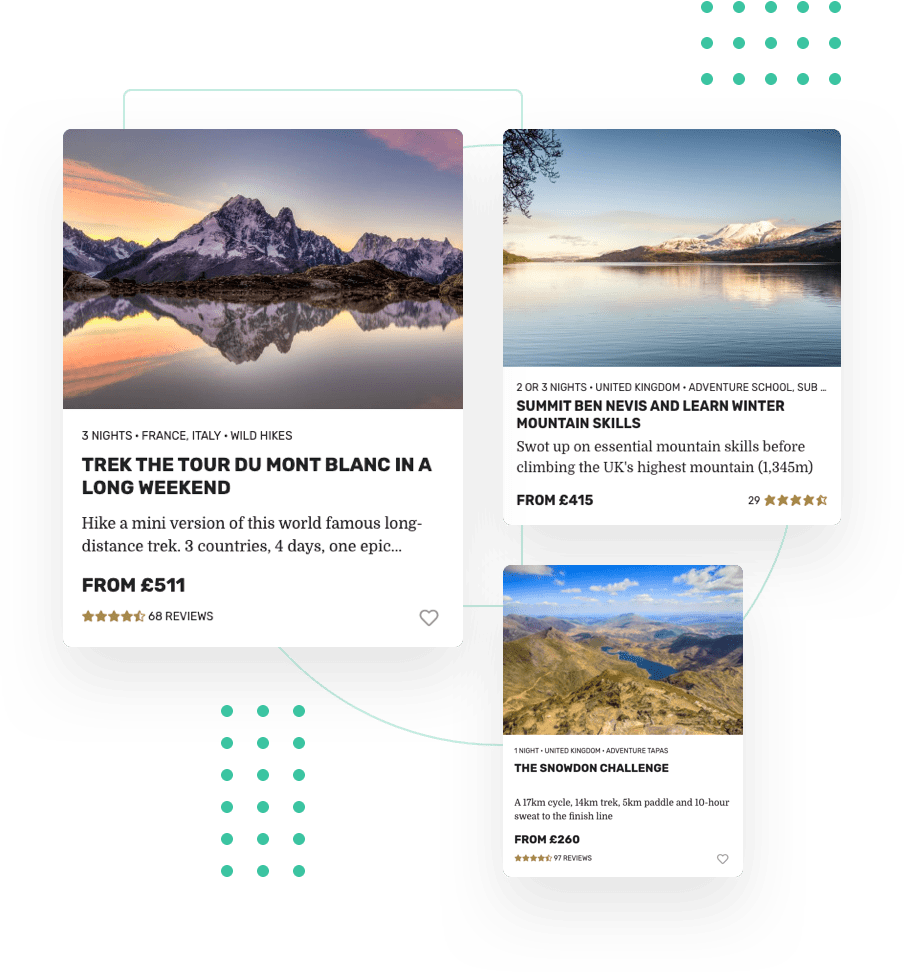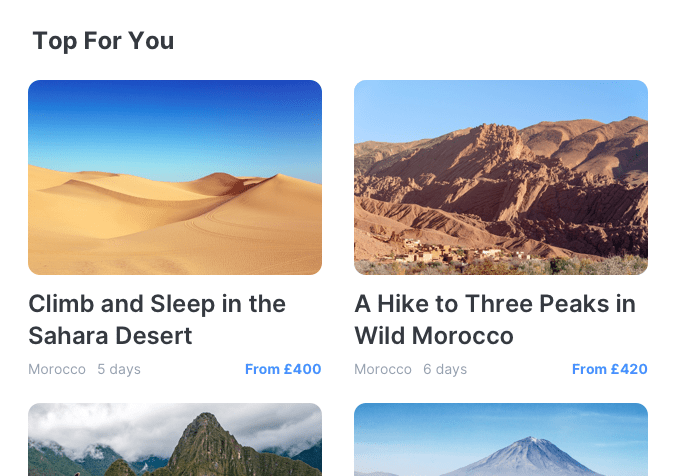 Recommended For You
Customize travel tips by showing the most relevant destinations from a pre-selected list.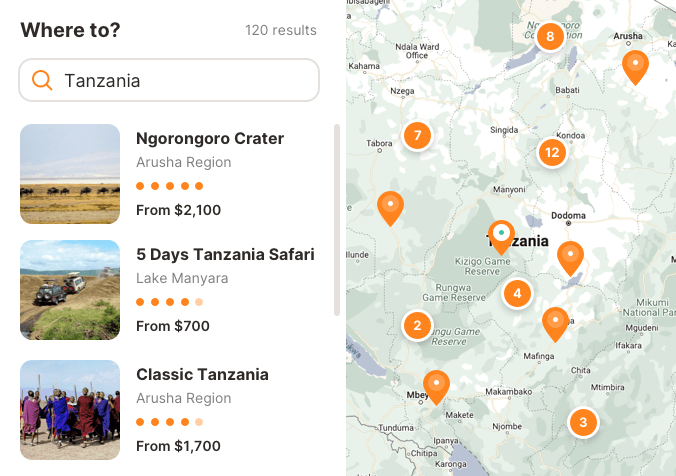 Geolocation Recommendations
Recommend the best country and language for your users based on their search preferences and location.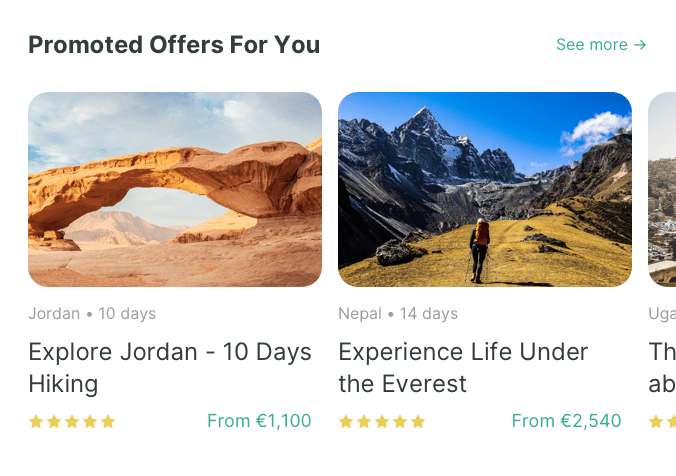 Promoted Offers For You
Inspire your users with promoted offers tailored to their desires.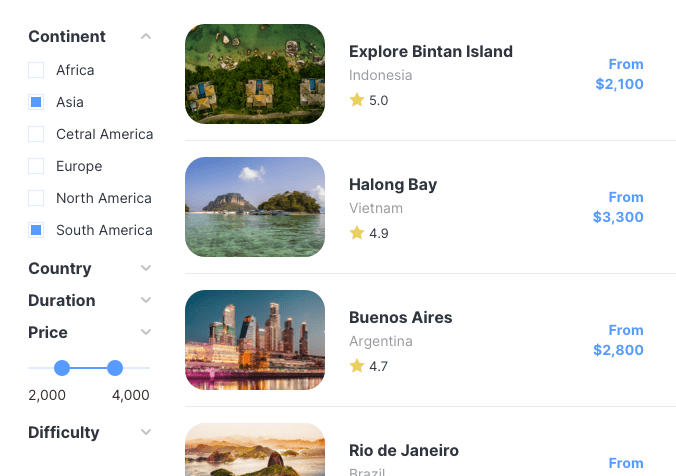 Faceted Search
Enable an efficient and flexible search option for finding the most relevant offers.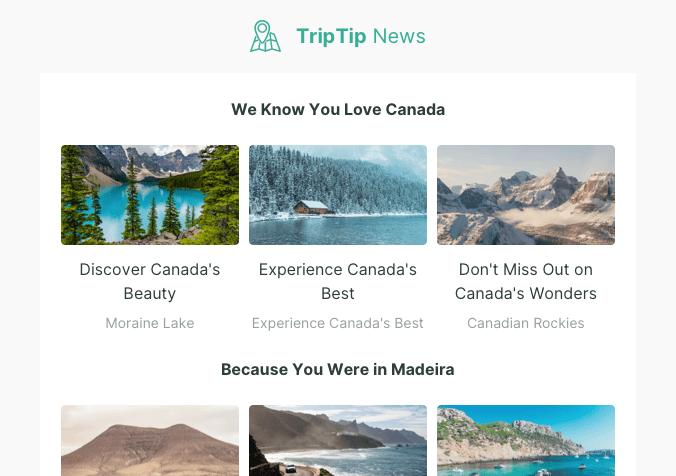 Personalized Emailing
Recommend the most relevant offers with individual preferences in mind.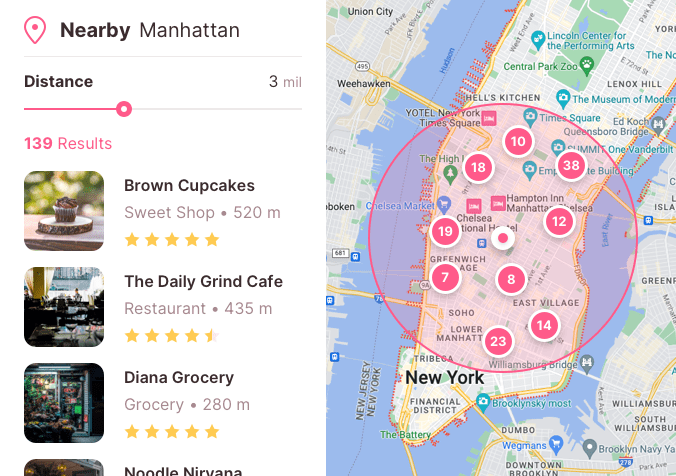 Nearby Listings
Expand the search with listings near the destinations of interest.
Turn "lookers-into-bookers" by offering hyper-personalization to each visitor
Tailored services and personal approach increases the number of loyal customers by delivering the best travel tips and strengthens your customer base. With the engines' ability to recognize travel preferences and with filters added by your customers, we can offer customized travel recommendations to each of your travelers.
Increase your conversion rates and customer satisfaction with AI. It is an uneasy task to gather data since many users travel rarely. One of the advantages of Recombee's solution is the usage of collaborative filtering models that from the first click, within milliseconds, recognize your user's preferences, and provide real-time recommendations - even to unknown or first-times visitors.
Recombee's robust recommendation engine analyzes item properties such as category, place, availability or price, and interactions like trip detail view, bookmarks, or purchases. Keep your customers engaged and loyal with personalized homepage, emailing, internal search or push notifications, adapting to any language or style.
Explore more on
Specialized Recommendations
Adapting to your data
A robust system that can utilize all data available to generate great recommendations for your users, including collaborative filtering and content-based models.
Dynamically Retrained Models
Real-time content personalization to meet the flourishing customer's tastes and adaptation to changing traveling options.
Specific Functionalities to Travel & Trips
NLP recognizing texts in 80+ languages to analyze trip attributes for an international clientele.
AI-powered A/B Testing
In-house AutoML AI applied to keep maximal KPIs and advance the deep learning algorithm functions.
Advanced Business Rules
Boosters or filters to push forward desired travel agencies and easy to manipulate, adjustable rules for additional optimization of your services.
Real AI Inside
Modern collaborative filtering and other methods recommending desired trip options based on historical on-site behavior.