Advance Your
Platform With AI
Boost your sales by making customers' shopping experience most enjoyable. Reap the benefits of fuller carts and stock on positive reviews.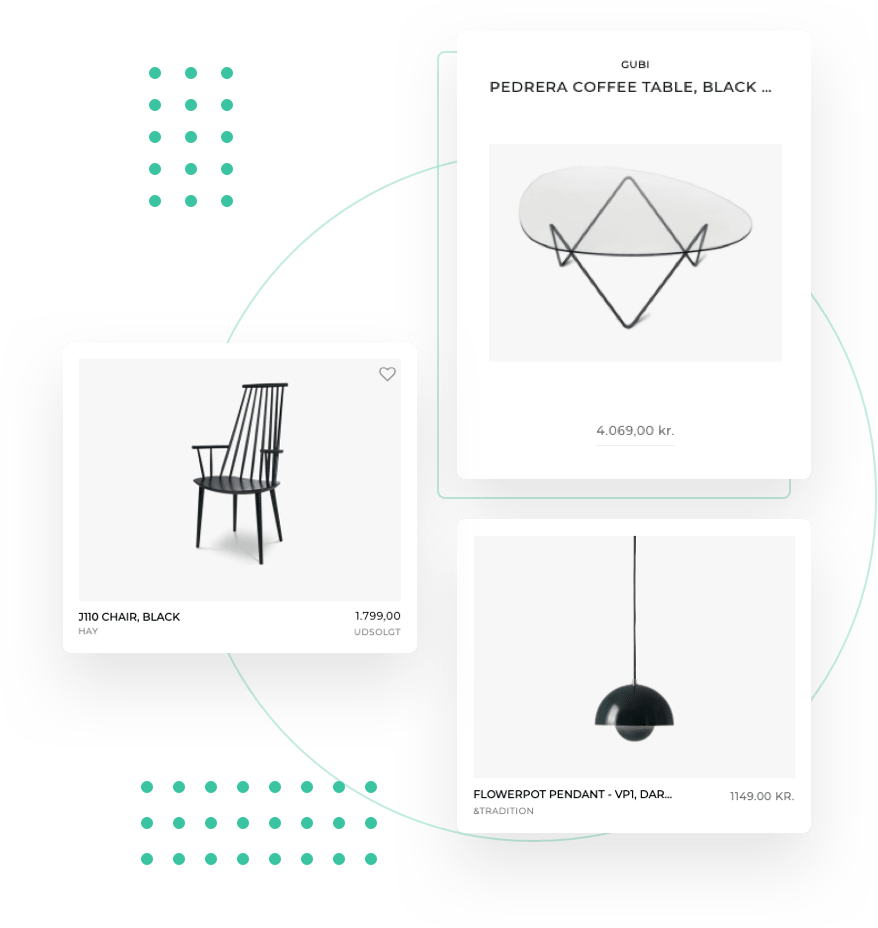 Recommended For You
Allow customers to discover personalized product recommendations based on their interests.
New Arrivals
Generate tailored product recommendations based on the latest additions to the product catalog and increase the likelihood of a purchase.
Just For You
Provide personalized product recommendations based on favorite categories.
Quick Search
Match search queries and tailor products to individual preferences.
Faceted Search
Show products based on individual search criteria like price, color, size, material, or any other specifics from your catalog.
Recently Viewed
Help your customers go back easily to the item they have already viewed.
Similar Products
Present alternatives to searched items or suggest suitable replacements for discontinued products.
You May Also Like
Display products complementary to those already purchased.
Buy Next
Elevate the chances of a continued customer journey with related offers like discounts, deals, and promotions.
Bestsellers
Grab attention with a sample of your bestsellers.
Popular & Trending
Recommend the most popular and trending products with individual preferences in mind.
Personalized Category Browsing With Infinite Scroll
Let customers browse categories with an infinite scroll of personalized recommendations generated in real-time.
Email Personalization
Enhance the shopping experience with tailored complementary product offerings for recent purchases.
Convert visitors to loyal customers with a personalization service
Use geolocation and customer preferences to present what each customer seeks and increase the number of shoppers. Aside from an inflow of positive reviews and an improved user experience, personalization can lead up to a 30% increase of shopping carts, and personalized email marketing can add up to a 30% increase in CTR.
Put trust in our product recommendation engine leveraging your customer insights to personalize homepage to individual tastes, push forward your best-seller items or use our models to cleverly upsell/ cross-sell desired items. Offer the right product at the right time with the use of predictive algorithms and business rules to support your sales strategy and ensure long-term customer loyalty.
Maximize the use of your data for various conversions and stay one step ahead of your competition. Recombee's robust recommendation engine analyzes item properties such as title, description, availability, price or other attributes from your product feed and interactions like detail view, adding to a wishlist or purchase.
Explore more on
Product Recommendations
E-commerce Integration Tips
Adapting to your data
A robust system that can utilize all data available to generate great recommendations for your users, including collaborative filtering and content-based models.
Dynamically Retrained Models
Real-time content personalization to keep up with the number of newly added products and meet the flourishing customer's tastes.
Specific Functionalities to E-commerce
Image processing to analyze items using pictures and NLP to analyze product attributes of available stock.
AI-powered A/B Testing
In-house AutoML AI applied to keep maximal KPIs and advance the deep learning algorithm functions.
Advanced Business Rules
Boosters or filters to push forward desired products and easy to manipulate, adjustable rules for additional optimization of your content.
Real AI Inside
Next basket prediction and on-site recommendation algorithms based on deep learning, reinforcement learning and other methods to optimize conversions.
"It has been really difficult to find a solution that could integrate many different data sources and be 100% customizable, but with Recombee we get this. Recombee has fundamentally changed how we are serving recommendations and has really helped us grow. In addition to this, they have great customer support and are always ready to help."