Engage Audiences
With Emerging Topics
in Real-Time
Recombee's engine is designed to build rich relationships with the readers, improve KPIs, and push your site through the ranks!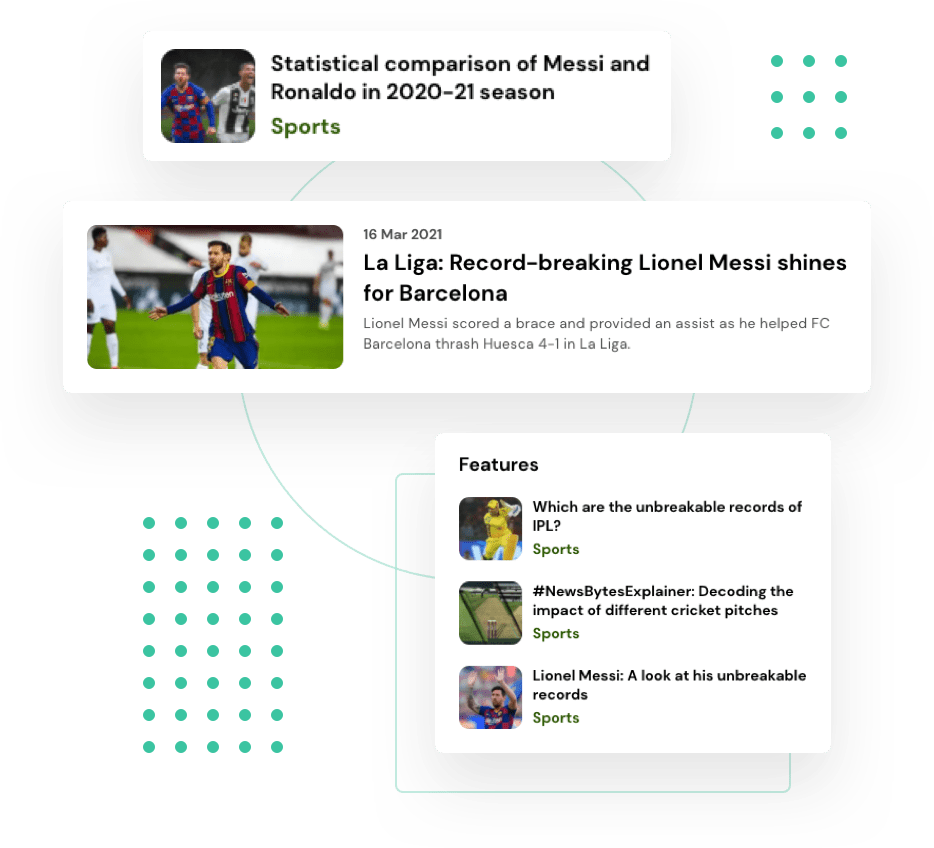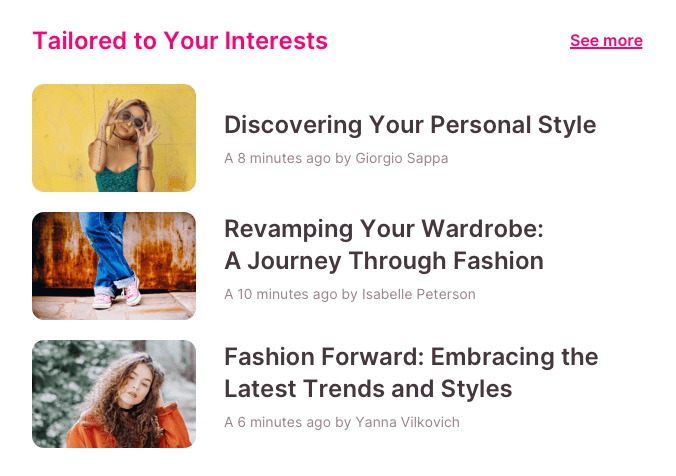 Articles For You
Boost engagement with personalized 1:1 articles discovery.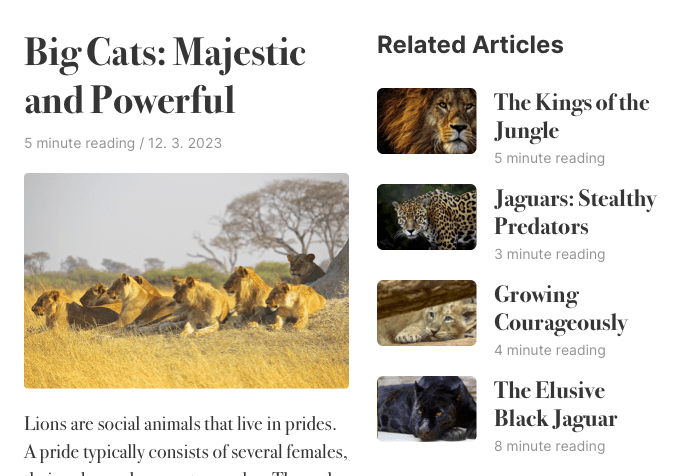 Related Articles
Enable users to discover personalized content recommendations based on their interests.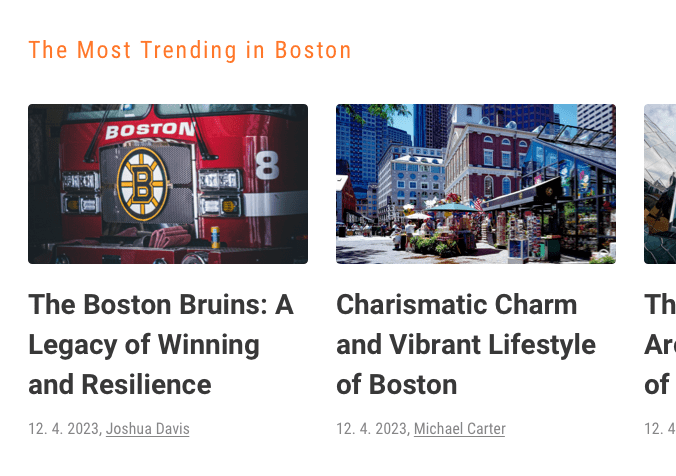 Trending Articles
Showcase the diversity of your platform with the hottest local articles in your users' region.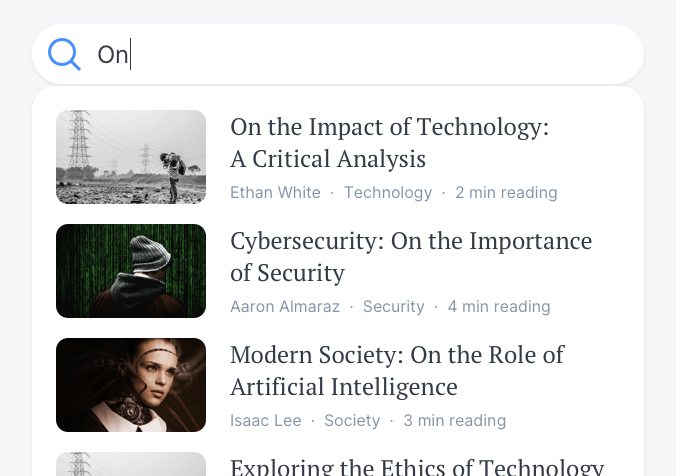 Search Articles
Make sure the desired articles get found within a few keystrokes with a full-text search for content.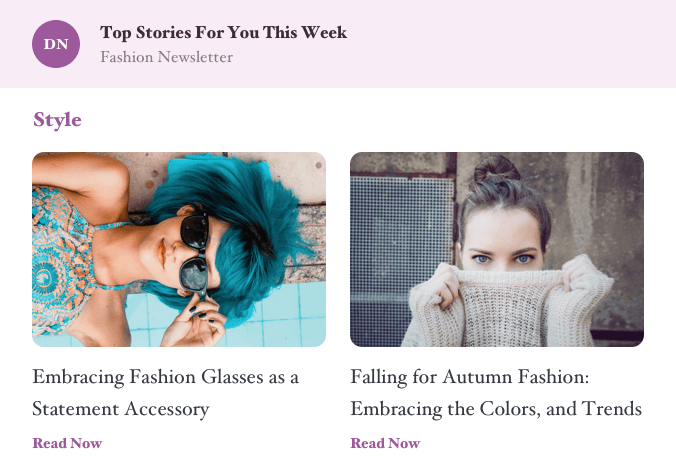 Weekly Digest Email
Sweeten the discovery experience through personalized emails with articles tailored to the user's taste.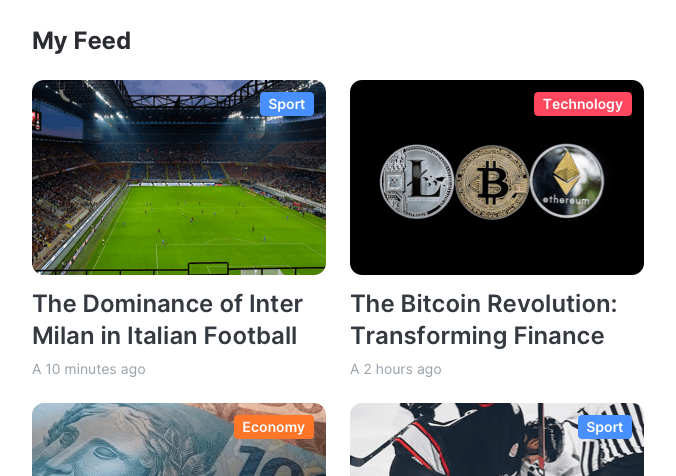 Personalized News Feed
Automate and tailor all your news feed rows 1:1 for each user.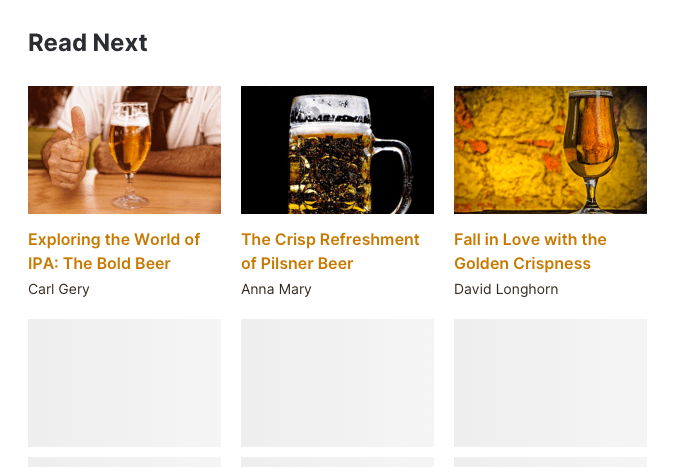 Read Next
Motivate users to stay in the binge-reading zone using infinite scroll recommendations.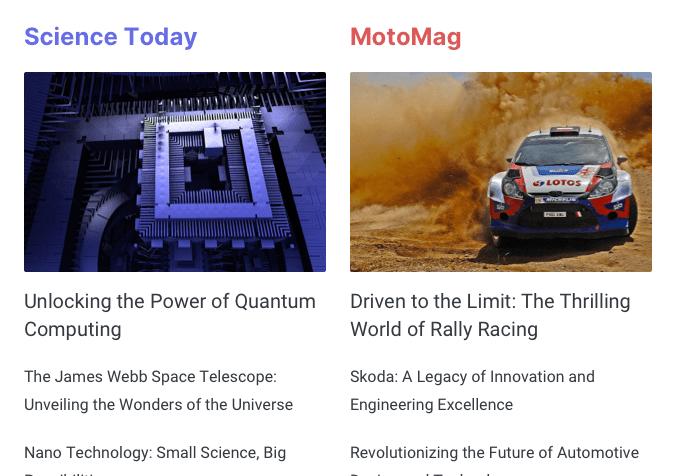 Cross-Site Recommmendation
Allow for a comprehensive and seamless user experience by delivering recommendations across all your sites.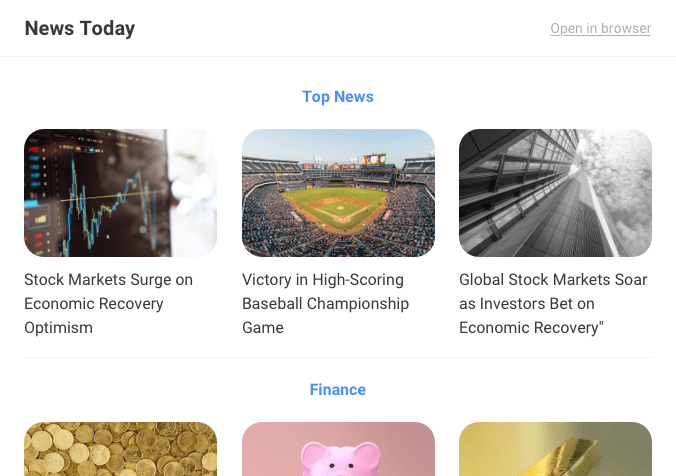 Daily Digest Email
Run campaigns through personalized emails with recently added news matching individual criteria.
Deliver Breaking News in Real-Time
Be the first to display emerging content in real-time and be your readers go-to platform for hot news.
Increase Readers' Engagement and Ad Revenue
Optimize CTR, Average Session Duration, and Recirculation rate, with content tailored to user's taste, including niche topics.
Acquire and Retain Subscribers
Offer highly convertible content using Recombee's Business rules and keep users interested with captivating newsletters.
Human-In-The-Loop: Achieve Better Results with Editors in Charge
Strike a balance between the scalability of AI and the expertise of human beings using seamless, easily configurable rules within Recombee's interface.
Enhance Content Discoverability With Diversified Recommendations
Reduce echo chambers and prevent filter bubbles for your users using state-of-the-art algorithms backed by scientific research.
Handle Large Traffic Peaks and Nationwide Events
Utilize scalable and fast solution to offer personalized and real-time recommendations to all users at all times.
Save editors time, increase subscriptions and boost emerging topics in real-time
With new content emerging every minute, it is a challenging task to keep a deep connection with individual readers. Our AI recognizes sudden emerging topics - which will be pushed upfront and bring traffic to your sites, thus increasing your ability to stay competitive.
We utilize predictive algorithms that analyze content attributes and readers behaviour to recommend the most relevant articles. Our models recognize users' preferences within milliseconds, and provide real-time recommendations - even to unknown or first-times visitors. Recombee offers application of boosters and filters, that allow for automatic organization of content, e.g. boosting premium content or editorial picks.
Recombee's recommendation engine analyzes each content property such as title, date of publication, author, tags, expiration date, lead paragraphs or paid/unpaid content applying NLP in 80 languages. We react to each new click or newly released content immediately, analyzing interactions like detail views, bookmarks, scroll down rates or likes.
Explore more on
Content Recommendations
News and Articles Integration Tips
Adapting to your data
A robust system that can utilize all data available to generate great recommendations for your users, including content-based models and NLP.
Dynamically Retrained Models
Real-time content personalization to adapt to the flourishing customer's tastes and consider the fast-changing media content.
Specific Functionalities to News and Articles
Deep Natural Networks to recognize emerging topics and automatically prioritize suggesting the trending material.
AI-powered A/B Testing
In-house AutoML AI applied to keep maximal KPIs and advance the deep learning algorithm functions.
Advanced Business Rules
Boosters or filters to push forward the desired articles and easy to manipulate, adjustable rules for additional optimization of your content.
Real AI Inside
Reinforcement learning and other algorithms designed to recognize users' preferences within milliseconds and provide real-time recommendations, including a boost of premium content.
"As a founder of a new age media platform, increasing customer engagement is our number one goal and Recombee helped us in the same with their fantastic recommendation engine. NewsBytes has been working with Recombee for more than 6 months now and we are extremely happy with Recombee's product."