Meet Recombee at IBC 2023
Amsterdam · 15–18 September 2023 ·
Read More
Customer Experience With Personalized Recommendations
Recombee eases the journey of finding the right property, increases customer satisfaction, and aims at higher amounts of successful viewings.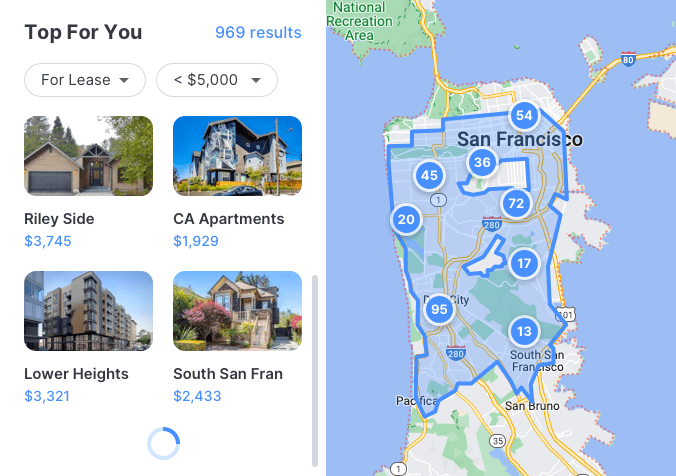 Top Listings For You
Let your customers discover the best properties on the market and stay up-to-date with the latest trends in real estate.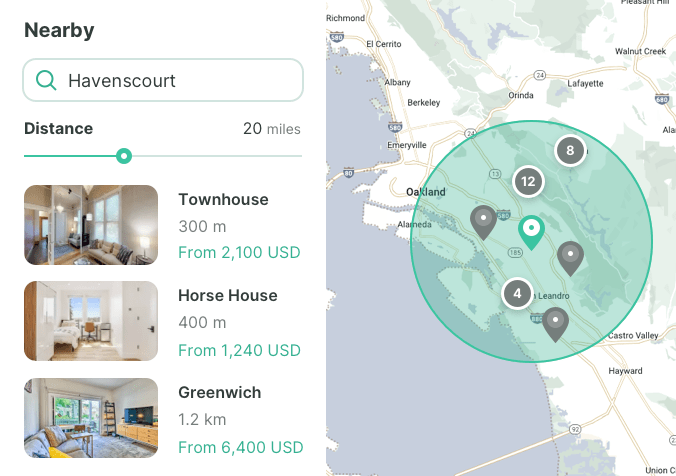 Nearby Listings
Expand the search with listings near the properties of interest.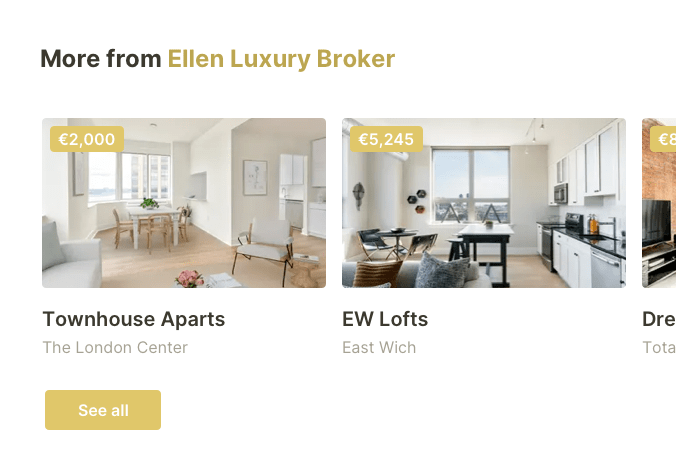 More From This Broker
Recommend more listings from preferred brokers.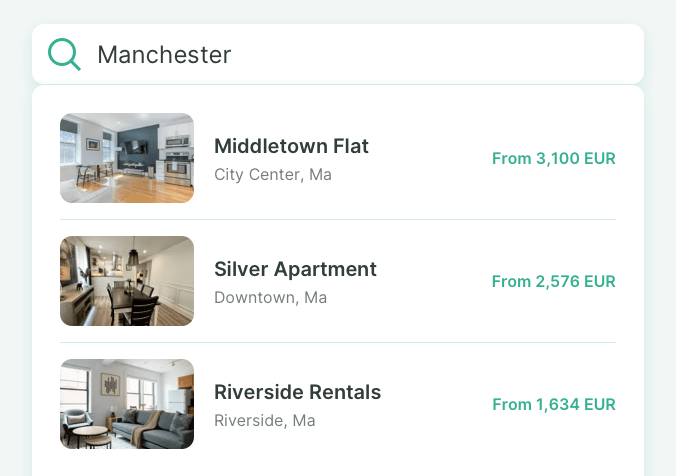 Quick Search
Make sure customers find the best homes and investment opportunities in their desired city or neighborhood.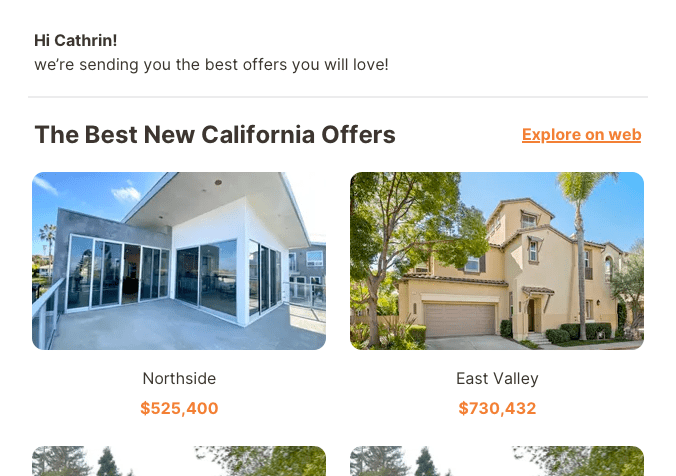 Watchdog Recommendations
Run campaigns through personalized emails with newly added listings matching individual criteria.
Employ Best-In-Class Geographic Functions
Utilize functions such as geo-location based search, recommendations, distances, polygons, areas, and ZIP codes.
Upturn The Number of Leads and Closed Deals
Analyze images, descriptions, and interactions with high sensitivity to important attributes (number of rooms, bedrooms, price range).
Process Listings Using Real-Time Model Training
Immediately predict what a first-time visitor is looking for by processing listings as they appear and disappear.
Provide a Quick Response Time to Large Audiences
Rely on horizontally scalable technology with high availability and lightning-fast response times for large numbers of concurrently browsing users.
Insights and Control
Align your business strategy with your premium sellers by monitoring the impressions and leads they receive.
Increase number of generated leads with real estate personalization
With diverse customers' tastes and flourishing offerings in real estate, it may be challenging to find the right fit for each customer. This is why Recombee concentrates on individualization of each journey. Personalization increases customer satisfaction, and makes your services more efficient leading to higher amounts of broker contact and tour requests, successful viewings and properties sold.
Our deep learning recommendations show the most relevant listings to each of your visitors. Recombee doesn't only analyze the visitor's behavior and choices but also their geo-location preferences to be the leading recommendation engine for real estate. Our AI also analyzes property features such as year built, images or property descriptions.
Recombee's robust recommendation engine analyzes item properties such as geolocation, number of rooms, floor number and amenities, and interactions like viewing the vacancies or likes. Optionally, additional property information can be translated through natural language processing (NLP) as well as image processing.
Explore more on
Specialized Recommendations
Real Estate Integration Tips
Adapting to your data
A robust system that can utilize all data available to generate great recommendations for your users, including collaborative filtering and content-based models.
Dynamically Retrained Models
Real-time content personalization to fit every home-seeker's tastes and adapt to constantly changing content.
Specific Functionalities for Real Estate
Filtering based on polygons in a map incorporating the user's geolocation and earth distance ReQL functions to operate in a set radius.
AI-powered A/B Testing
In-house AutoML AI applied to keep maximal KPIs and advance the deep learning algorithm functions.
Advanced Business Rules
Boosters or filters to push forward desired listings and easy to manipulate, adjustable rules for additional optimization of your content.
Real AI Inside
Using Deep Learning to understand similarity of properties from images and attributes. Ensembles of real-estate tailored recommendation algorithms based on historical on-site behavior.
"Our collaboration with Recombee has supported our platform's capabilities through its intelligent personalization algorithms and sophisticated search results. Our customers now receive highly relevant property recommendations that cater to their specific needs, with one notable email campaign seeing a 178% uplift in CTOR.

Their commitment to excellence is evident in the 40% increase in listing engagements on our platform, contributing to our growth in the competitive real estate market. The team at Recombee is responsive, professional, and puts in the effort to ensure that our unique business model is supported."