Meet Recombee at IBC 2023
Amsterdam · 15–18 September 2023 ·
Read More
AI-Based Music Recommendations
Utilize insights into listeners' preferences to offer a listening experience tailored to each user - just like Spotify!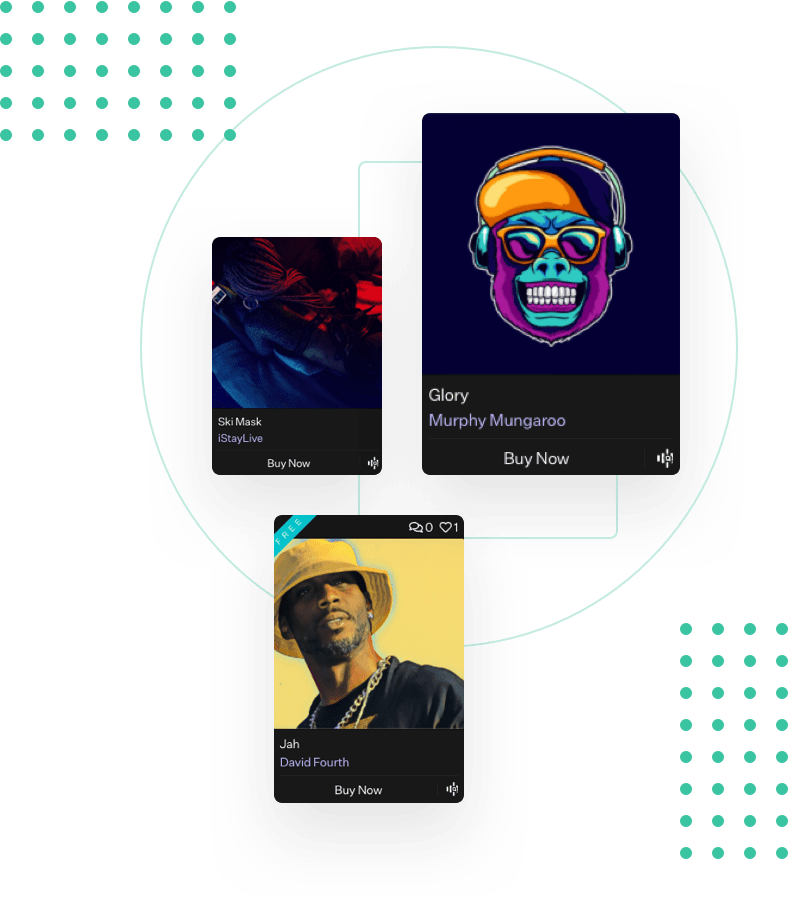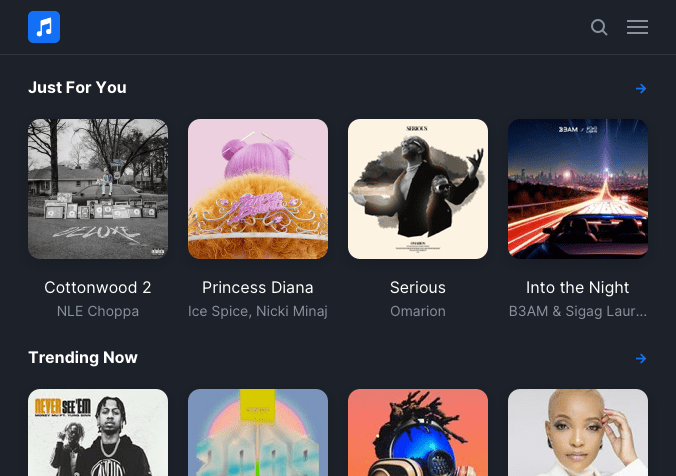 Fully Personalized Homepage
Automate and tailor all your homepage rows 1:1 for each user.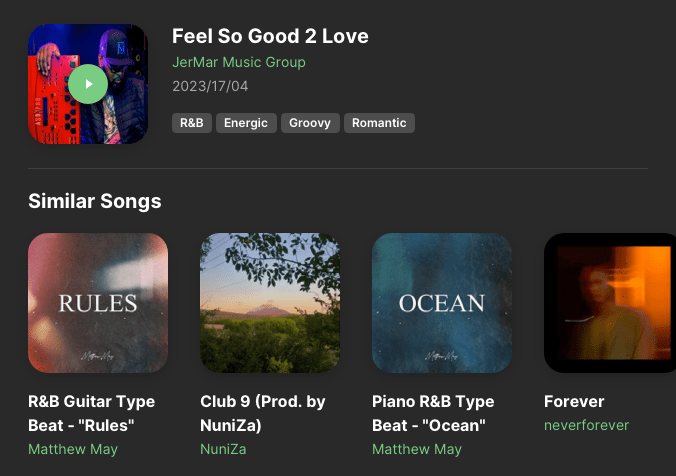 Similar Songs/Artists
Present new songs and podcasts based on the content the user is currently enjoying.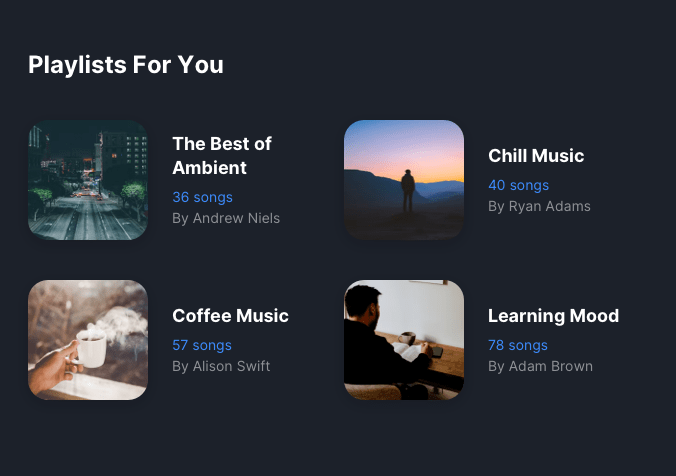 Playlists Made For You
Customize playlists by showing the most relevant songs or podcasts from a pre-selected list.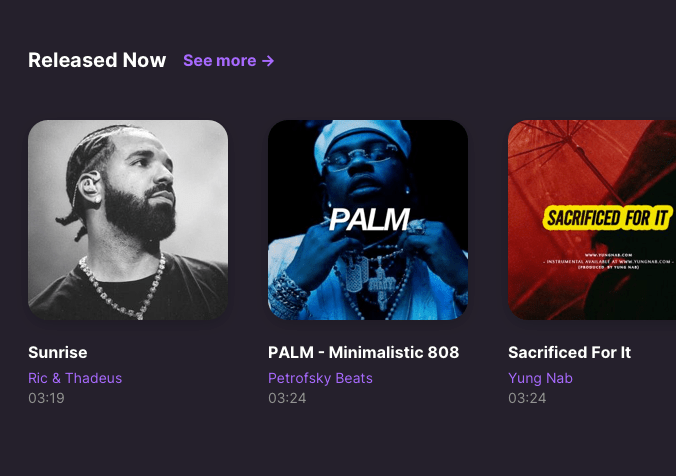 New Releases
Give listeners an overview of the week's new releases.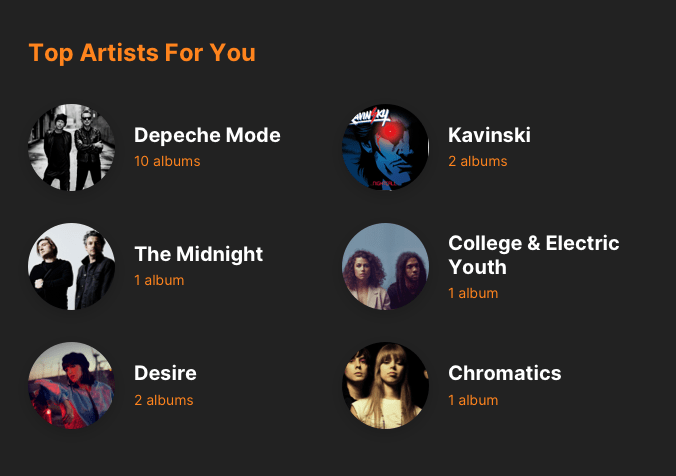 Recommended Artists For You
Inspire your users with work from artists they might enjoy based on their listening history.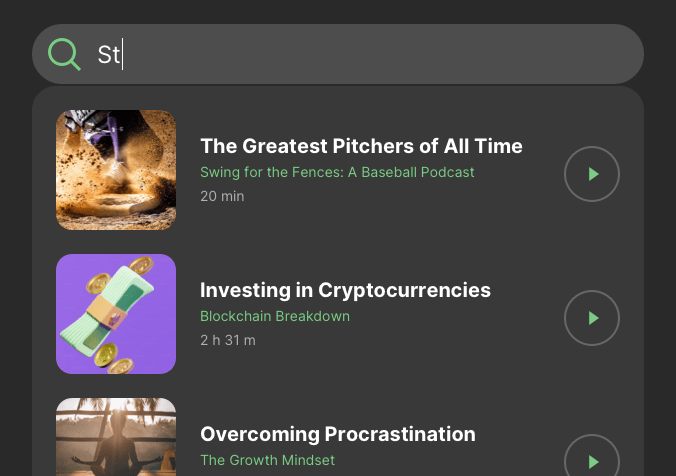 Quick Search
Match search queries and tailor the music and podcast selection to individual preferences.
Recommend Songs, Albums, Artists and Podcasts
Recombee automatically understands the links between songs, albums, and artists.
Uplift Revenues, Boost Playtime, Subscriptions and Retention Rates
Increase number of plays, active users, artist follows, ad revenues and other metrics.
Offer Great Personalized Recommendations for Music and Podcasts
Recommend music that fits the user using advanced collaborative filtering models.
Recommend Local and Niche Content
Allow listeners to discover unique content creators within a large catalog of songs and podcasts, including sensitivity to particular cultural regions.
Provide Real-Time Responses to Mood Changes
Recommend content selections based on different situations and time of the day.
Control the Behaviour of Recommendations
Use Recombee Business rules to set constraints, boosters, filter out content with explicit lyrics or by unverified artists.
"Striving to be the ever limitless music sharing and discovery platform, we need to make sure the user experience of our listeners is smooth and sound. And one of the most critical aspects of achieving such a goal is content personalization tailored 1:1 in real-time. That's why we switched to Recombee. Thanks to their recommender engine, our monthly plays increased by 206% and weekly follows by 67%. Because the recommendations performed so well, we moved them from our Search page to the top of our main Discover tab. They are now the best-performing module within that tab, accounting for 46% of all plays."
Increase the number of subscribers and time spent with personalized playlists and podcasts
With more aspiring artists and easy access to music and podcasts, it is no easy task to stay competitive. We analyze consumed content, favorite artists, speakers, genres, or descriptions in multiple languages, to help your platform offer podcasts and music recommendations tailored to personal tastes.
Beyond basic data, Recombee's recommendation engine works with information about which songs/podcasts were listened to till the end, which halfway or skipped completely. Utilize Recombee to offer recommendations of genres, artists, songs or playlists to keep the listener entertained and eager to revisit your platform.
Recombee's robust recommendation engine analyzes item properties such as title, genre, author, language or tags and interactions like view, replay, like or rating. Autoplay is one of many features that Recombee offers to the listeners and enhances their time spent on the platform.
Explore more on
Content Recommendations
Videos and Music Integration Tips
Adapting to your data
A robust system that can utilize all data available to generate great recommendations for your users, including collaborative filtering and content-based models.
Dynamically Retrained Models
Real-time content personalization that adapts to the flourishing customer's tastes and considers the newly added music or podcast content.
Specific Functionalities to Music Platforms
Recommendations taking into account the users' listening time; which titles were listened to until the end, which were listened to halfway or skipped completely.
AI-powered A/B Testing
In-house AutoML AI applied to keep maximal KPIs and advance the deep learning algorithm functions.
Advanced Business Rules
Boosters or filters to push forward desired songs or genres and easy to manipulate, adjustable rules for additional optimization of your content.
Real AI Inside
Reinforcement learning and other algorithms designed to recognize the preferences of individual users and predict desired music or podcast with higher accuracy boosting user engagement.
"Working with Recombee to develop an affordable solution to provide our users with excellent music recommendations has exceeded our expectations in every way. They have been able to understand the relationships in the data of our industry and create effective models to use efficiently. We also appreciate the nuance and flexibility they offer when it comes to deciding the right solution based on quality, cost, complexity, speed, and other factors."